On September 22nd, a 7,000 TEU container vessel "X-PRESS CENTAURUS" built by SWS, a subsidiary of CSSC, in collaboration with CSTD for Singaporean shipowner X-PRESS, was named and delivered. With this, SWS has completed the construction and delivery of a total of 8 7,000 TEU container vessels in just 3 months since delivering the first ship of this type on June 21st of this year. Following the Capsize bulk carrier and the Aframax oil tanker, this is another brand ship type built by SWS in the segmented market, showcasing its profound root and strong capabilities.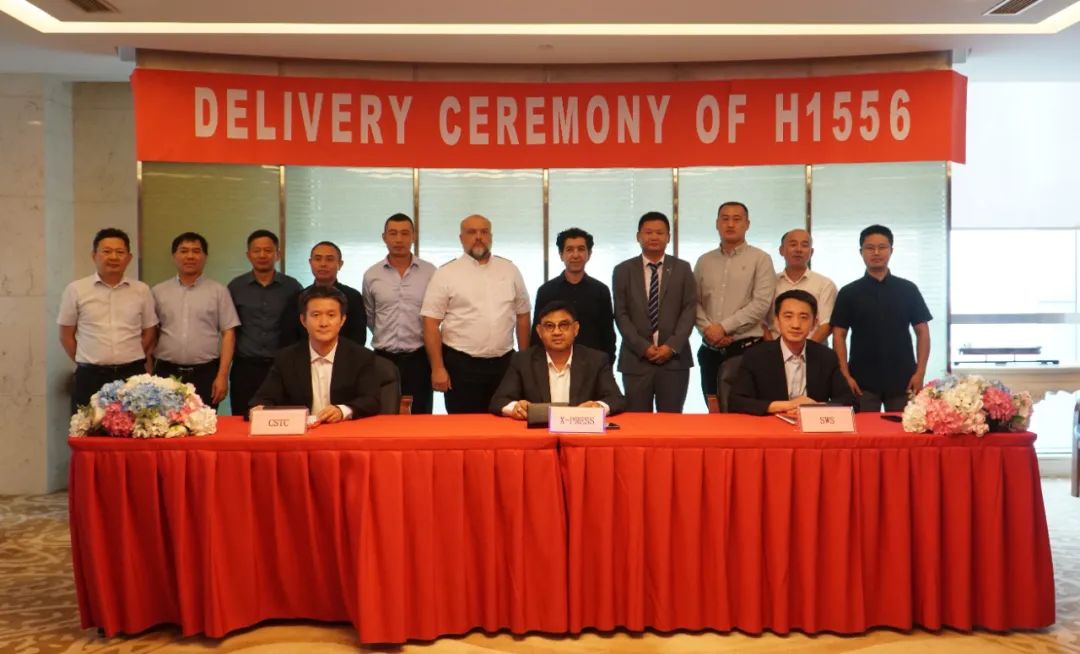 This vessel is a new generation of environmentally friendly and energy-efficient container vessel developed by Shanghai Merchant Ship Design & Research Institute, a subsidiary of CSSC. It has a total length of 272 meters, a molded breadth of 42.8 meters, a molded depth of 24.6 meters, a loaded draft of 15 meters, and a carrying capacity of approximately 86,000 DWT. It can accommodate 9 layers and 17 rows of containers on the deck, and 8 layers and 15 rows of containers in the cargo holds, with a total capacity of over 7,000 standard 20-foot containers. Additionally, the vessel can accommodate 800 reefer container sockets. The container arrangement on the deck adopts a mixed stowage design, which can increase the stacking weight of containers on the hatch covers and deck.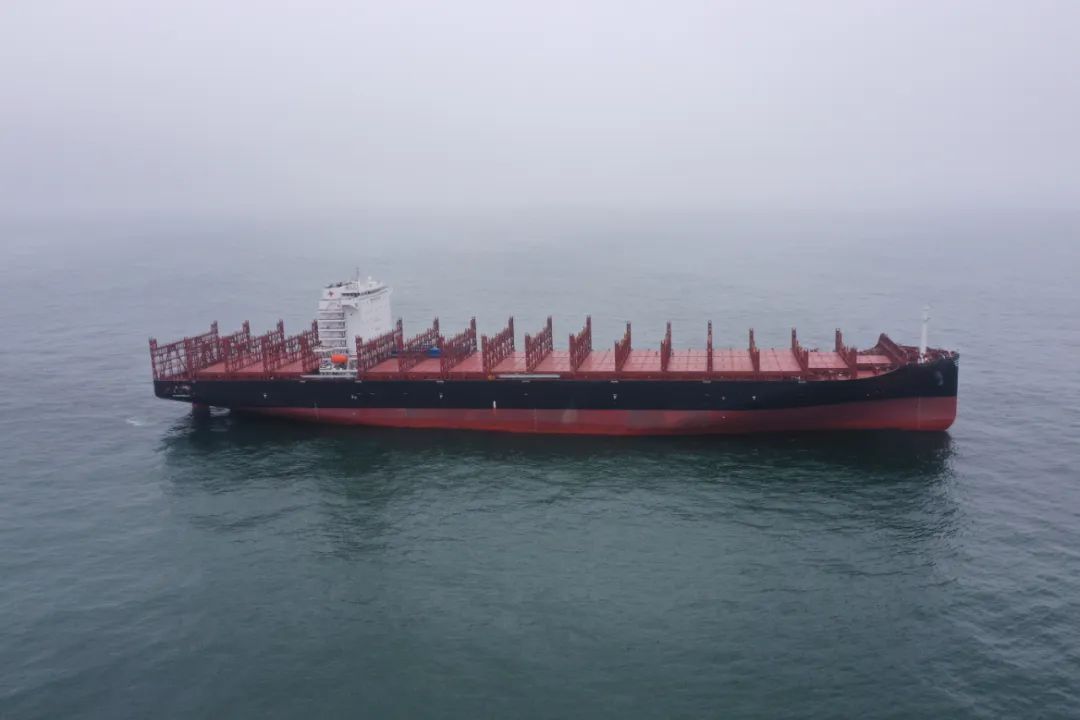 This type of container vessel incorporates a streamlined design with efficient propellers, fully suspended twisted rudders, and a bulbous bow, which greatly optimizes its speed and significantly reduces fuel consumption and carbon emissions. It is worth mentioning that through overall layout and structural design optimization, the ship has achieved lightweight design, effectively reducing the deadweight and significantly improving the loading capacity. In terms of vibration and noise control, various technical measures such as vibration and noise analysis, overall layout optimization, source control, and terminal absorption have been implemented, achieving excellent levels of vibration and noise control. Test results have shown that the vibration and noise levels are significantly lower than the specified limits set by regulations and standards.
As a pioneer in the field of Chinese merchant shipbuilding, SWS is the world's first shipbuilding company to have developed, designed, and built over 300 Capsize bulk carriers. It holds approximately 16% of the global market share for Capsize bulk carriers, ranking first in the world. Additionally, it has delivered a total of 50 Aframax oil tankers, accounting for approximately 5% of the global Aframax oil tanker fleet. Particularly in 2023, SWS has received orders for 13 ships of this type, representing approximately 50% of the global market share.
In 2020, in order to further enrich and strengthen its portfolio in merchant shipbuilding and enhance its overall capabilities, SWS made the strategic decision to enter the segmented market of 7,000 TEU container vessels. Since then, SWS has accumulated a total of 34 orders for this vessel type, securing the largest global market share.
To meticulously build its brand of 7,000 TEU container vessels, SWS has adhered to the guiding principles of "high-speed, high-efficiency, low cost, and high quality." SWS has undertaken comprehensive construction planning and technological breakthroughs, resulting in significant achievements.
To establish a network for the construction planning of 7,000 TEU container vessels, SWS has focused on tackling the key challenges. Five special task groups, namely "Triple Elimination," "Half-ship Shaft Installation," "Precision Management and Simulated Container Testing," "Dual First-Class Construction," and "Efficient Fuel Injection," have been established to address these technical challenges. Simultaneously, a total of 63 core guidelines have been developed from six aspects: design, construction methods, precision, production management, project management, and pre- and post-production. These guidelines have been formulated to create a standardized construction process for 7,000 TEU container vessels.
Currently, SWS has implemented the process of section boring and half-ship shaft installation, which has become a routine practice. It has also achieved 100% container testing before lunching. Meanwhile, SWS has made comprehensive progress in the "Triple Elimination" initiative, which involves eliminating painting and polishing work of the engine room, ballast tank, and cargo hold. This has resulted in the integrity of the vessel reaching around 90% before lunching. SWS has successfully achieved the "Four Clearances" objective of zero issues in section, lunching, sea trial, and delivery, establishing a unique model of fast, continuous, and rhythmic production as well as batch delivery. This model has allowed for the impressive accomplishment of delivering 8 vessels within 3 months, showcasing the "Chinese shipbuilding speed." These achievements inject new momentum into the comprehensive promotion of the "leading by the cruise ship, balancing development of merchant vessels and offshore products" strategy and further elevate the high-quality transformation of merchant vessels.